YUVsoft Launches Render Version of its 2D to 3D Suite for NUKE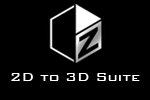 Render Version for NUKE Significantly Cuts Costs for Stereo 3D, Post Production Facilities; Enables Large-Scale Batch Rendering for Depth Propagation and Stereo Generation
Moscow, Russia (January 25, 2013) — YUVsoft Corp., developers of 2D-to-stereo 3D conversion and production software solutions, today announced the immediate availability of the Render Version of its powerful 2D to 3D Suite for NUKE. YUVsoft 2D to 3D Suite for NUKE is a family of stereo 3D conversion plug-in software tools designed to support the conversion workflow in The Foundry NUKE environment. The newly launched Render Version is designed for those NUKE customers with render licenses and who are engaged in large-scale depth propagation and stereo 3D generation.
"We created the Render Version of our 2D to 3D Suite for NUKE primarily to give our customers options. We understand that some of our users, who are generating large volumes of stereo 3D content in render farms, may not need all the capabilities of our complete suite," said Dmitriy Vatolin, CEO of YUVsoft. "One of the most compelling effects of our technology is that the automated and accelerated workflow saves 3D artists considerable time and money. The Render Version of this suite goes even further, enabling them to batch render at significantly reduced cost – in many cases, with up to 50% savings!"
Today, the Render Version of 2D to 3D Suite is available immediately and for The Foundry NUKE platform only. The Render Version offers uses the same functionality as the full version, however without support for the NUKE GUI mode. Existing projects (made in the GUI version of NUKE) can be rendered, or scripts can be executed in the same way, and without making any changes to the workflow. Because of the powerful NUKE's scripting engine, it is also possible to complete practically any processing from scratch in the terminal mode, but without access to visual tools available in the full suite, such as the universal depth brush.
The Render Version of the 2D to 3D Suite for NUKE is available immediately on the Windows platform. For more information, or to purchase the Render Version, please visit Ask for a Demo page.