Successful Cooperation Of YUVsoft And Prasad Group: Sivaji 3D-Film Conversion
YUVsoft interviewed Mr. Mohan Krishnan, Head of Corporate Communications at Prasad Group about the most challenging aspects of recent conversion for Sivaji 3D.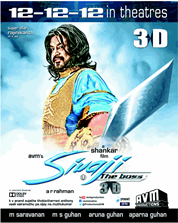 Moscow, Russia (March 22, 2013)—Prasad Group, founded in 1956, is India's largest provider of integrated services catering to the entire range of film, video and new media production and postproduction segments. The company is working closely with YUVsoft Corp., a developer of 2D-to-stereo-3D conversion and postproduction software, starting with 3D conversion of the film Sivaji. The original 2D version was well received by moviegoers in 2007. The film's impeccable 3D conversion for the Sivaji 3D release in 2012 is truly amazing, delivering effects on par with Hollywood standards. Using YUVsoft's flagship 2D to 3D Suite helped the Prasad EFX division to simplify the workflow significantly, remove stereoscopic errors and artifacts, and save time on abundant rotoscoping and therefore to be able to maintain tight production deadlines.
We spoke with Mr. Mohan Krishnan, Head of Corporate Communications at Prasad Group, and asked him about some of the most challenging aspects of recent conversion for Sivaji 3D.
YUVsoft: What challenges were you facing and why did you decide to use YUVsoft?
Prasad: We had a challenge in painting out artifacts following the conversion process, and we had to paint each and every shot regardless of the depth budget or camera angle. Though we use several tools for the conversion process, we chose the YUVsoft solution for this purpose. Especially the Smart Depth Map Dilation feature [of Stereo Generator] was very helpful.
YUVsoft: Please describe a specific sequence in which YUVsoft was particularly helpful. How did the product help?
Prasad: When we were working on a song sequence, we were about to miss the client presentation deadline because of a schedule delay in rotoscopy. But with the help of YUVsoft's depth tool, that particular shot was converted without any roto and paint work. We were able to present the screening on time to the client's full satisfaction and appreciation. In fact, that particular song was much appreciated among the entire output.
YUVsoft: How would you summarize your experience with YUVsoft's products?
Prasad: YUVsoft extended their full support and offered timely responses to our inquiries. We are very happy with the product, quick response, updates, technical support and bug fixes. The company has been a fantastic partner.
The converted 3D version of Sivaji hit screens in December of 2012 and received very positive press coverage, as well as solid reviews from moviegoers.
About Prasad
Prasad Group is a 55-year-old media and entertainment organization with interests in film production, postproduction, distribution, exhibition and related fields. Its services encompass the entire range of filmmaking requirements, and the company employs experts in digital-imaging services—namely, digital film restoration, VFX, stereoscopic conversion and digital-film-related services. Prasad Group credits many Hollywood and Indian film projects to its name and has restored over 250 prestigious movies in different languages from around the world, including more than 24 Academy Award winners, 16 Golden Globe Award winners and more than 32 nominees for these awards. For more information, visit www.prasadgroup.org.