New 3D Success Story: Viy 3D Breaks Box-Office Records
Stereo conversion enables 3D-movie success

Moscow, Russia (February 28, 2014)—Following the Stalingrad IMAX 3D movie, a new star is rising in Eastern European 3D cinema: Viy 3D, released in late January in Russia and Ukraine. Its domestic Russian box-office for the opening weekend exceeded $17 million—the all-time record for a Russian movie. Rentrak ranked the Viy 3D box-office results as number five internationally for that week. In three weeks, the movie collected more than $32 million domestically, despite an estimated budget of $26 million. These box-office figures beat the recent records of Stalingrad.
Viy 3D is a "dark fantasy" action film based on the classic horror story Viy by famous Russian writer Nikolai Gogol. It follows the mystical adventure of English cartographer Jonathan Green (played by Jason Flemyng) in a godforsaken village somewhere in Ukraine during the early eighteenth century.
The movie was shot in stereo and is advertised as "native 3D," but stereo conversion played a major role in production. Why did it happen and was possible at all? The truth is that production of the movie lasted several years. More than 20 minutes of the original footage was filmed in 2D. Because of the unavailability of props and the actors' busy schedules, there was no realistic way to reshoot the existing 2D material in stereo. Thus, stereo conversion came to rescue.

Srboljub Hetlerovic, an independent stereographer, worked on converting the majority of the source 2D material. His team used YUVsoft's 2D to 3D Suite to achieve efficient, quality results. He offered a glimpse of how and why the software worked out.
Hetlerovic said about the Viy 3D conversion project, "It was truly a large-scale, very interesting, but very demanding project. The conversion was done in parallel with other postproduction jobs, so it was frequently necessary to sync converted shots with altered cuts and with visual effects that might have been modified unpredictably, or to adjust the depth budget in accordance with shots captured in stereo while also in post. For some shots we created as many as twenty 3D versions! My portfolio now includes more than 10 converted or hybrid stereo 3D movies, but in most of those cases, the work involved post-conversion of a final 2D cut, so the Viy 3D experience was special. That's why it was important to be able to quickly create and modify depth maps and generate stereo in different variants, as well as trying to keep it cost-effective. 2D to 3D Suite depth-map automation and stereo-generation tools proved to be indispensable for these tasks."
Hetlerovic added with regard to conversion automation, "One of the most difficult tasks was matching the shots that were captured in native 3D, both in terms of depth budget and quality: the bigger the parallax difference between positive and negative space, the more work needed to be done in compositing, including making clean plates for occluded backgrounds and fine-tuning the object masks in the foreground.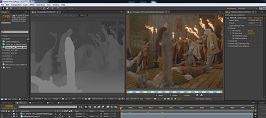 Stereo generation for a shot from Viy
"Using YUVsoft's Depth Propagation helped a lot because we didn't have to do roto for background objects, which was tremendously beneficial considering that some shots were as much as 1,800 frames long. Thus, the volume of rotoscoping decreased many times. Using automatic depth-map correction tools made our roto-masked depth practically ideal for foreground objects. The Background Reconstruction plug-in helped us make clean plates with ease—probably twice as fast as it would normally take using regular tools. Finally, the Stereo Generator plug-in gave us the flexibility to fine-tune object edges and increase the parallax without any additional work, like stereo painting.
"All in all, client delays aside, it took us a month to convert 20 minutes of very demanding material from 2D to 3D and to match the quality of shots filmed in native 3D.This speed is remarkable for such high-quality work, since the conversion team included just 20 people, and they had to switch from one project to another while awaiting responses from the client. For a 145-minute movie that nominally was in production for eight years, I would say that is a pretty decent result, to say the least."
Thus, stereo post-conversion proved to be very efficient and helped in finishing a large 3D-movie production, paving the way for commercial success. These results reaffirm the wisdom that there are just two types of stereo: good and bad. By using efficient modern technologies and employing experienced teams to perform acquisition and postproduction, both stereo shooting and stereo conversion produce the same result: attractive, comfortable and engrossing 3D, which is exactly what moviegoers want in stereo productions.
| | |
| --- | --- |
| | Learn more about YUVsoft's conversion solution: |
Srboljub Hetlerovic is a stereographer, VFX supervisor and cofounder of a multinational design studio with production facilities in three different countries in Europe and Asia. He has worked on 2D-to-3D conversion of Conan The Barbarian 3D (2011), Spiders 3D (2013) and 2012 3D (2012) and is an art director with more than 15 years of experience in most computer-graphics fields, including special effects for movies, 3D stereoscopic content, broadcast design and desktop publishing.
About 3D YUVsoft
Founded in 2006, 3D YUVsoft develops 2D-to-stereo-3D conversion and postproduction software solutions for feature-film and television production studios worldwide. It provides powerful, sophisticated software that significantly accelerates the complex 2D-to-stereo-3D conversion workflow, offering tools for automating and simplifying depth-map creation, processing and high-quality stereo generation. The company also has broad expertise in stereo-video processing; in video-quality estimation, including stereoscopic, multiview and 2D+Depth video; and in 2D-video processing for quality enhancement, compression and analysis. For more information, visit www.yuvsoft.com.